Online Learning Plan 4.0

Online Class Codes
Click on your child's school for the (Zoom Link/Google Classroom Code)
Oak Park High School
Oak Park Preparatory Academy
Einstein Elementary
Key Elementary
Pepper Elementary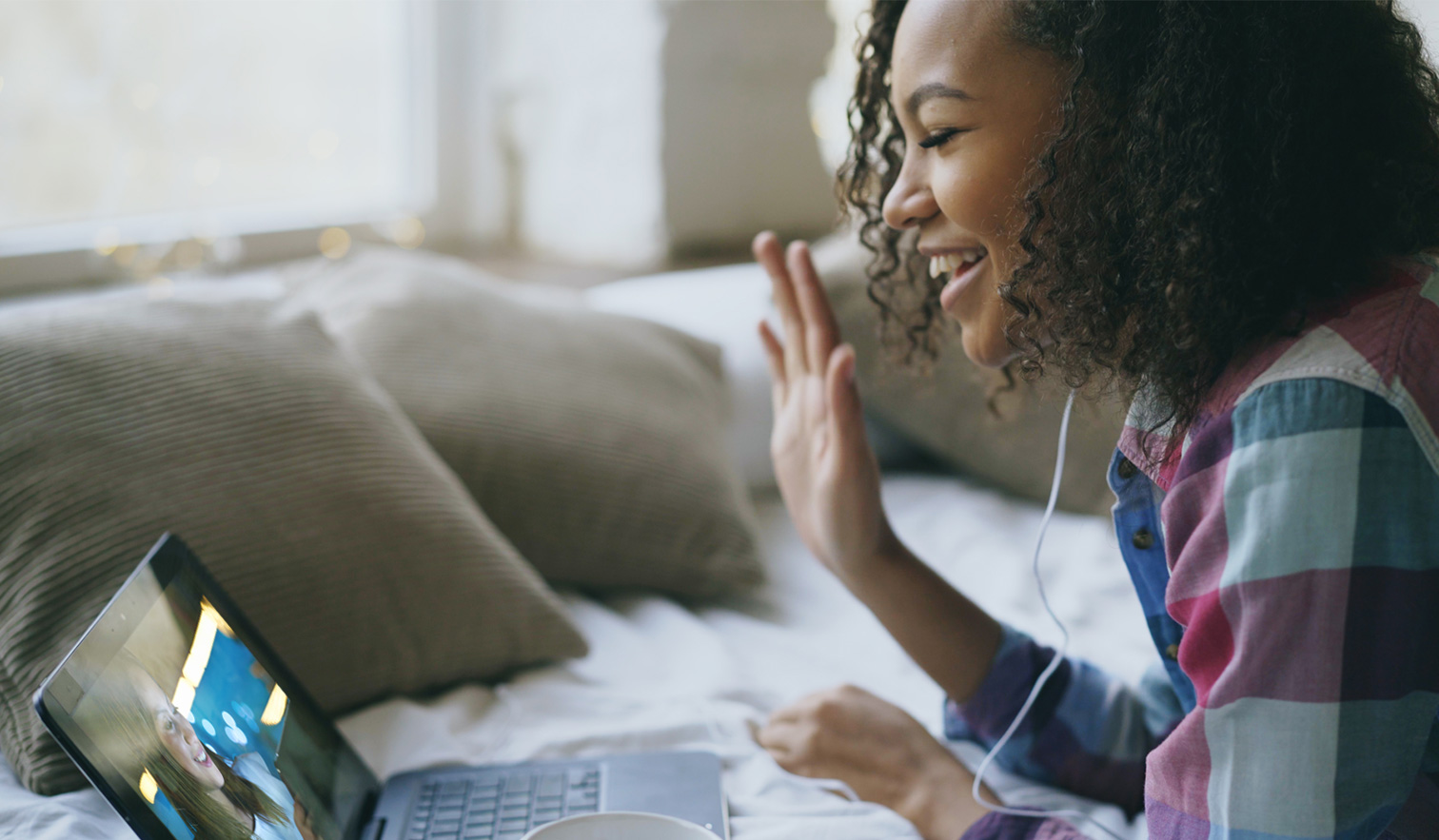 Online Learning 4.0: August 31 - October 30
Preparing to Learn at Home
To improve at-home learning for students, educators will:
● Provide consistent live instruction to students.
● Attend to students' needs and seek to engage them.
● Use a minimum of one platform to facilitate student and parent engagement.
● Set clear expectations for student attendance.
● Support families to implement best practices that are responsive to student needs.

The lessons learned during Spring 2020 and Summer 2020 regarding remote learning reflect our belief that students must engage in rigorous tasks and have engaging academic experiences at home that include a combination of live instruction, small group activities, and independent learning.

Online Learning Expectations
The following expectations of schools are informed by lessons learned, stakeholder feedback, Michigan State Board of Education guidance, and emerging best practices. Our goal is to ensure that students experience rigorous, quality learning on a daily basis; engage in experiences that prioritize their social-emotional well-being; and have a clear understanding of what is expected and how to successfully engage in learning.

Each school will:
Use the Google Education Suite to facilitate remote learning.
Provide daily remote learning that meets instructional minutes requirements for all content areas or courses for all students.
Ensure all educators are available to provide live video instruction/student supports and are synchronously available to students during the entirety of the instructional day.
Focus on grade-level, standards-aligned instruction
Provide daily student social-emotional supports
Submit and monitor student attendance daily.
Ensure every student has digital access.
Ensure clear communication with families and students.
Establish effective structures to facilitate professional development, staff collaboration, planning, feedback, and continuous improvement in the remote environment.
Online Learning Fall 2020 Expectations
How do these new expectations compare to online learning in Spring 2020? (For Full Online Learning Progression ​Click Here​)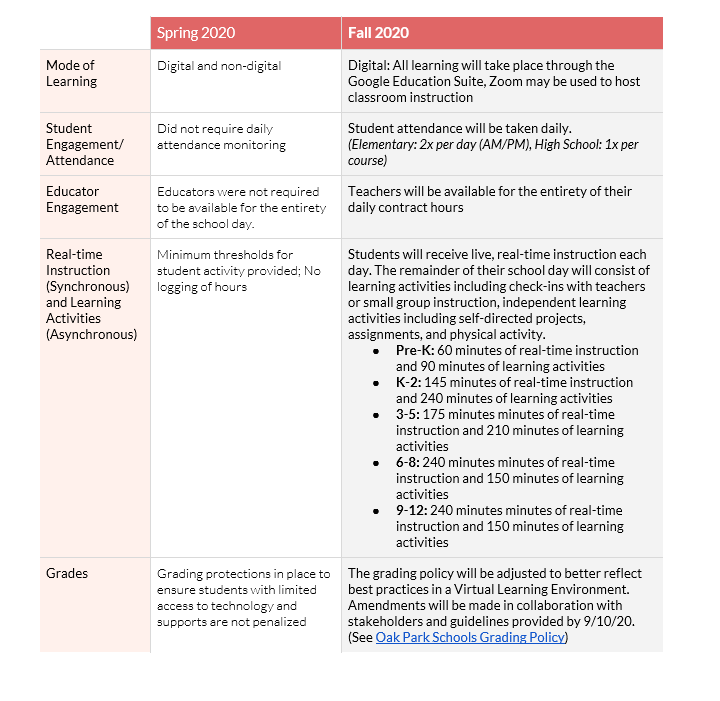 Supporting Students with Special Needs
Supporting Students with Special Needs
Oak Park Schools will continue to ensure that our diverse learners make progress on their IEP goals and the General Education curriculum. IEP teams will determine how to meet the individual needs of students with disabilities from home in a safe, and supportive manner. Educators (teachers, paraprofessionals, Related Service Providers ) will provide live, real-time instruction as well as one to one check-ins and independent learning activities.
Supporting English Language Learners
Supporting English Language Learners
Bilingual education teachers will continue collaborating with classroom teachers to deliver instruction that meets the needs of our English Language Learners (ELLs). In order to support students' language development, ELLs will receive live, real-time instruction (synchronous instruction), and independent learning activities.

Supporting Academic & Social Emotional Needs
Supporting Academic and Social-Emotional Needs
Building supportive relationships, creating welcoming and predictable learning environments, and fostering social and emotional skill development are key strategies in supporting students who may feel distress, anxiety, fear, or other challenging emotions during times of change and uncertainty. To provide the social and emotional support that our school communities need right now, schools and educators will strive to build a sense of community, teach SEL skills, and share SEL information and resources with families. Parents can contact their school social worker or counselor to request more information about these services or resources.
Easing our students' anxiety and building supportive learning environments will be critical to their success this coming school year. We have also begun offering additional mental health interventions and supports, introducing grief curriculum, expanding small group trauma interventions, and introducing virtual classroom-based activities for managing stress and anxiety.

Request for Emotional Support for Students
We understand that some students may need additional emotional support during this unprecedented time. Students, classmates and concerned family members may request additional emotional support from a certified Oak Park Schools counselor, school social worker or school psychologist.
Click here to make an Emotional Support Request.
Your request will be directed to the appropriate staff member. All counselors, school social workers, and school psychologists will publish office hours to provide proactive supports to students. More information can be shared on the social emotional support links of each of our schools.
COVID-19 Preparedness & Response Plan 
Preparedness Plan Introduction
Governor Whitmer's Executive Order 2020-142 "provides a structure to support all schools in Michigan as they plan for a return of pre-K-12 education in the fall. Under the order, school districts must adopt a COVID-19 Preparedness and Response Plan laying out how they will cope with the disease across the various phases of the Michigan Safe Start Plan. In turn, the accompanying Michigan Return to School Roadmap offers a guide to the types of safety protocols appropriate during each phase. There's no one size-fits-all solution. Districts will retain the flexibility to tailor their instruction to their particular needs and to the disease conditions present in their regions." (EO-2020-142)
OPS COVID-19 Preparedness & Response Plan (click here).