Coronavirus (COVID-19) Information
On Thursday, March 12, Governor Gretchen Whitmer issued a directive for a school closure in response to COVID-19. Oak Park Schools are working to meet the needs of all students, families and staff. Information posted on this webpage will be updated regularly.
Outside Resources:
Explaining COVID-19 to Children
BrainPOP Coronavirus (COVID-19) Video
BrainPOP Personal Hygiene Video
Talking to Children about COVID-19: A Parent Resource
Proper Hand Washing Techniques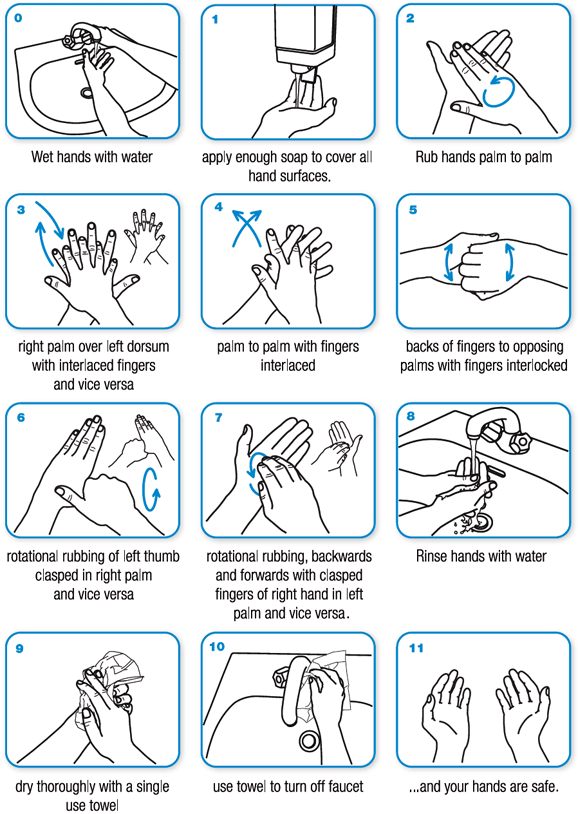 Parent/Guardian Communication - February 27, 2020
Oak Park Schools Families,
Following the heightened concerns over the Coronavirus (COVID-19), the Oakland County Health Division has issued the following notices to help the community proactively combat the spread. While there have been no cases confirmed in Oakland County or Michigan, there are actions that can be taken at home and in our schools as we work to keep our community healthy.
The best way to prevent infection is to avoid being exposed to the virus. The CDC recommends washing hands with soap and water for at least 20 seconds (about the length of time it takes to sing the ABC's). They suggest individuals avoid touching their face with unwashed hands and avoid close contact with those who are sick.
If your or your child presents with a fever or any of the common symptoms (https://www.cdc.gov/coronavirus/2019-ncov/about/symptoms.html) associated with COVID-2019, please keep them home and contact your family physician for guidance. The best way to prevent the spread of any illness, including even the common cold, is to keep sick children home.
The incubation period for COVID-19 is estimated to be between two and fourteen days. If you were in China in the last 14 days or exposed to someone who has been to China and feel sick with a fever, cough, or difficulty breathing, you should follow the steps on the CDC's website: https://www.cdc.gov/coronavirus/2019-ncov/about/steps-when-sick.html.
Oak Park Schools has connected with our custodial and transportation staff to incorporate preventative deep cleaning and disinfecting. Working in this proactive manner within our buildings and buses, over and above our typical cleaning and disinfecting measures, we hope to reduce risks associated with COVID-19 within our schools.
Again, there are no confirmed cases in Michigan, but we do hope this information provides our school district community with action steps to keep our children and neighbors healthy in the coming weeks and months. Out of an abundance of caution, our executive leadership team has taken the recommendation of the federal government and will develop a COVID-19 pandemic preparedness plan.
Attached are documents from the Oakland County Health Division, created in partnership with the CDC, offering actions that can be taken for cleaning and disinfection. Updates will be shared as new information becomes available.
Parent/Guardian Communication - March 9, 2020
March 9, 2020
Oak Park Schools Parents/Guardians & Staff,
With the increase in cases of the Coronavirus Disease 2019 (COVID-19) in the U.S. and intensity of media coverage comes speculation about the impact this virus may eventually have on school communities. It is important for you to know the most accurate and timely information about this health concern, including that there are no confirmed cases of COVID-19 in Michigan. Out of an abundance of caution, the Governor's office is urging residents to take necessary precautions to prepare and keep themselves and their families safe.
Our schools work closely with public health officials and follow all of their expert recommendations to best ensure the safety of everyone in our school community. We have added COVID-19 information to our school district website for your convenience. https://www.oakparkschools.org/community-parents/coronavirus-information/
Of course learning at our schools primarily occurs inside classrooms with face-to-face teaching by certified instructors using interactive technology tools. We are making efforts to provide optional classwork for students through Google Suite (Classroom, Docs, Slides, etc.), Clever, Odyssey and other online platforms, which can be accessed through any electronic device, including a smart phone.
Any guidance on recovering the learning that may be lost during a potential school closing will come from the Michigan Department of Education. In the meantime, be assured that our schools are prepared to intensify cleaning practices throughout our buildings and will follow all directions provided by public health to prevent and limit the virus.
According to public health officials, the way COVID-19 is spread is very similar to the flu and common colds. For this reason, we are encouraging our students and staff to actively wash their hands and take all of the same precautions they would normally take to avoid these illnesses. Please encourage your children to do the same at home as they build healthy habits! If your child has flu-like symptoms, they should not attend school until symptoms subside.
We have open and effective lines of communication with our public health officials and will alert students, staff and parents if we receive direction related to COVID-19. Any potential school closing due to illness will be guided by public health officials. While education is important, the health and wellbeing of our students and staff are far more significant.
Please click below to download our FAQ document:
Sincerely,
Jamii J. Hitchcock, Ph.D.
Superintendent
Parent/Guardian Communication - March 11, 2020
Dear OPS Parents/Guardians and Staff,
With the Governor's recommendation to cancel large group and public gatherings, and with two known cases of Coronavirus in Michigan, Oak Park Schools will follow the Governor's recommendations to prevent and mitigate exposure to this pandemic. Public health officials have encouraged us to keep schools in session until further notice.
The following actions either have taken place or will take place immediately in Oak Park Schools, until further notice or official recommendation to resume these activities:
Canceling/postponing all large group events: This includes plays, musicals, concerts, large-group parent meetings, school programs, and any and all programs outside of the normal school day that occur within our schools. (We will be continuing Latch Key Child Care at our elementary schools for our families until 6 p.m.).
Canceling all international travel and domestic travel that is scheduled to occur prior to the end of April.
Canceling athletic competitions: Oak Park Schools will work with the Michigan High School Athletic Association (MHSAA) on regional and other competitions, which may include conducting the event with only students and officials present (no spectators) or canceling.
Canceling all rental, invitational or after hour activities/events currently scheduled at Oak Park Schools facilities including band, music or athletic competitions.
Suspending all tours, visits and non-essential volunteers in Oak Park Schools facilities.
Continue to thoroughly clean all of our buildings and common surfaces and follow all guidance from the Center for Disease Control & Prevention (CDC), World Health Organization (WHO), Michigan Department of Education (MDE), Oakland County Health Department, Oakland Schools, and others as we navigate this issue. We are staying abreast of what is happening with:

Level III CDC designated countries.

How

Coronavirus

is being handled throughout our country and the world.

University responses.

Monitoring Oakland County, Intermediate School District (

ISD

) and tri-county area school districts.

Continue recommended cleaning and hygiene:

Daily practices with staff and students, especially thorough washing of hands and using hand sanitizer. We are asking staff to eliminate handshakes and high fives, etc. with students and staff.

Stay home if you are sick and advise others to do the same.

Always cover coughs or sneezes with a tissue or sleeve.

Avoid close contact with people who are sick.

Avoid touching your eyes, nose and mouth with unwashed hands.

Wash your hands often with soap and warm water for at least 20 seconds. Use an alcohol-based hand sanitizer with at least 60% alcohol if soap and warm water are not available.

Clean and disinfect frequently touched objects and surfaces (computers, keyboards, desks, etc.).

Immediately changing the cleaning process to focus heavily on disinfecting hard surfaces and other areas that are most commonly touched (desks, doorknobs, sharpeners, handles, light switches, etc.). This modified scope includes the following:

Suspend cleaning white boards, pencil sharpener shavings, vacuuming and

place an increased focus on fully cleaning and disinfecting all restrooms and locker rooms daily, and
disinfecting tabletops, door handles and all touch points daily

Teachers and students can assist by ensuring that all desks and tables are cleared/emptied at the end of each day. This means, no paper, pencils, chairs, etc. on top of tables. This will allow the custodians to easily access critical surfaces for disinfection.
NOTE: There is a significant difference between cleaning and disinfecting. Cleaning involves a chemical that is designed to remove dirt, grease and buildup. Disinfecting requires a chemical that is designed to kill viruses and bacteria. This modification in protocol and products may result in surfaces occupying smudges/marks, however the surface will be free of viruses and bacteria.
Alcohol-based foaming hand sanitizers are expected to be delivered next week

and will be placed in classrooms and strategic locations. In addition, Clorox Total 360 System Electrostatic Sprayers have been ordered to provide increased disinfecting in a limited time.

Potential Closure: While we know some universities have closed in Michigan, we are working to prepare for the possibility. We rely on the guidance of the Governor and public health officials to make decisions about closing schools. Oak Park Schools will remain open until further notice. We will continue to be prepared for online learning should we have to close and make decisions about how to proceed as quickly as possible.
Health and safety are our priority. While we want school to continue and will take measures to keep our children, staff, and school community safe, please understand that this situation is evolving, and the health challenges are rapidly changing. Thank you for your attention to continued updates on this important topic.
Your support and partnership are appreciated.
Warmly,
Jamii Hitchcock, Ph.D.
Superintendent
Parent/Guardian Communication - March 12, 2020
March 12, 2020
Dear OPS Parents/Guardians & Staff,

The health and safety of our students, staff and community are our priority. Therefore, we are closing all schools and administrative offices for tomorrow, Friday, March 13, in light of growing concerns about COVID-19 to disinfect and deep clean our facilities and buses.
Today, we learned that there was a student at Pepper Elementary School that came in contact with someone who tested positive for COVID-19. At the time of contact, the person had no symptoms present and the student is exhibiting no symptoms.
We have gone above and beyond advisements from the Oakland County Health Division and are closing out of an abundance of caution. We are closely monitoring the Oakland County Health Division, Michigan Department of Education (MDE), World Health Organization (WHO) and the Centers for the Disease Control and Prevention (CDC) for information and updates.
Thank you for your continued commitment on this important topic. Please understand that we are continuing to take measures to keep your children, our staff and the community safe.
Your support is greatly appreciated.
Sincerely,
Jamii Hitchcock, Ph.D.
Superintendent
Parent/Guardian Communication - March 13, 2020
OPS Families,
Last night, Governor Gretchen Whitmer ordered a state-wide K-12 school closure through Sunday, April 5. As you know, on Monday, April 6 – Friday, April 10, our district will be on Spring Break. Therefore, Oak Park Schools will not resume until Monday, April 13.
Please know that we care deeply about the health, socio-emotional and physical well-being of our students, staff, parents/guardians and Oak Park community. As we look ahead to the next three weeks of the school closure, we appreciate your patience and understanding as we develop protocols as we are managing COVID-19 details that are simultaneously evolving and rapidly changing by the hour.
Although we will utilize technology during the school closure, we recognize that our student population has varied access to technological tools. In an effort to meet all students' needs, teachers and staff are being asked to prepare assignments that can be accessed on a smart phone device. Our staff will post additional information, on Tuesday, March 17, on our website for students to maintain skill practice and review to prevent academic regression from occurring over this three-week period.
Additionally, it is our goal to help you and your child through this unprecedented time. Please see the following information:
Parents/Guardians who need to pick up medications from their child's school can do so from 9:00 AM – 12:00 PM or 4:00 PM – 6:00 PM on Monday, March 16.
If your family or you know of a family that does not have internet access, please contact Comcast. Comcast Internet Essentials provides 2 months of free internet to customers in response to recent and anticipated emergency measures for COVID-19.
Meals will be available for students during the COVID-19 school closure. We plan to have the meal distribution locations in place by Tuesday afternoon at the latest.
If you have questions about you or your child's health, please contact your health care provider.
If you have additional questions about resources or support, please contact your child's school principal.
While experts recommend social distancing, it is important to emphasize the importance of not being socially isolated, limiting media exposure and having developmentally appropriate, factual discussions with your child(ren) to reassure them during this difficult time. Most importantly, please take care of yourselves, families and the medically fragile. We hope you have a healthy and restful few weeks.
Warmly,

Jamii J. Hitchcock
Superintendent
Parent/Guardian Communication - March 17, 2020
March 17, 2020
Dear OPS Parents/Guardians,
Thank you for the outpouring of support over the past several days from parents/guardians, staff and community members. While many of us are still adjusting to these uncertain times, I am always comforted by how national events bring out the best in us. Although we began planning for the COVID-19 a few weeks ago, I do not think any of us were prepared for this new way of life.
However, it is critical for our students to maintain skills to prevent academic regression and maintain a sense of social-emotional well-being during this time. In order to do so, our Teaching and Learning Department in collaboration with our teachers has compiled many wonderful learning resources.
Learning Opportunities At Home
Oak Park Schools boasts programming that meets the needs of all children. To do so with fidelity, we are unable to duplicate classroom experiences online. Alternatively, our direction to parents/guardians is to utilize the numerous learning resources that are available on our website to review and practice grade level content and explore new concepts. Students will not be graded for learning opportunities that they take advantage of during our COVID-19 school closure. However, for those students that do take advantage of these learning opportunities and provide evidence, will be recognized for their efforts. Please visit COVID-19 Learning Opportunities tab on our website.
Special Education Services
Our special education teachers are collaborating with classroom teachers to provide modifications and learning opportunities for students with disabilities at home. If your family has an IEP meeting scheduled during our school closure, Ms. Watson, Specialized Services Director is supporting IEP teams with taking the necessary steps to ensure that there are alternative means for preparation through the use of online platforms or conference calls. As these plans are finalized, the IEP team at your child's school will contact you. If you have questions, please contact your child's principal or Ms. Watson at ewatson@oakparkschools.org.
Spring Break & School Calendar
Details about the response to COVID-19 are rapidly evolving. Currently, we intend to maintain our regularly scheduled spring break planned for April 6-10, 2020. We are planning for school to resume on April 13, 2020. However, we are unable to predict what the coming days will bring, confirm other school/district calendar dates or directives that we will receive from the state or federal government. As we receive information about dates, we will communicate with families through school messenger and update our website as quickly as possible. If you have further questions, please contact your child's school principal.
Practicing Self-Care
In addition, we recognize that this is a stressful time for students and families. The silver lining is that this is an opportunity to slow down and spend time with our loved ones. During this time, some children may need more support than others. In order to comfort children, it is critical that the adults in their lives practice self-care, encourage physical activity, and sleep and eat properly. Modeling these healthy habits as well as responding to children with compassion will provide a sense of security for children and families. For more information about self-care resources, please visit our COVID-19 Self-Care tab on our website. Again, as we continue to experience these challenging times, please exhibit patience and grace with your children and yourself.
Food Distribution
Beginning today – April 3, 2020 we will distribute two meals per day (breakfast and lunch) for any child under 18 (age 26 and under for adults with disabilities). Curbside Pick Up locations are located at Oak Park Preparatory Academy (OPPA), Oak Park Freshman Institute (OPFI) and Oak Park High School (OPHS) open to all children. In addition, meal pick up will be available at six of our Detroit bus stop locations. For more information, please visit our COVID-19 Feed Our Kids tab on our website.
District Operations
Although you may see vehicles in our school and district parking lots, our schools administrative offices are closed to the public. District staff will be in our buildings deep cleaning and disinfecting, preparing meals for our food distribution program, installing hand sanitizer stations, and conducting repairs in preparation for the return of our students. If your child needs to access our building to retrieve an essential item, please contact your child's school principal.
Thank you for your continued support and partnership.
Warmly,
Jamii J. Hitchcock, Ph.D.
Superintendent
Parent/Guardian Communication - March 20, 2020
March 20, 2020
Dear OPS Parents/Guardians,
Thank you for your continued support and patience during these unprecedented times. We are continuing to diligently monitor local, state and global information about the Coronavirus (COVID-19). Oak Park Schools are committed to sharing factual, reliable information, but there are minimal updates at this time, which we understand can be unsettling. Over the past week, it's hard to believe that it has only been one week, we have been working to ensure that we put the necessary steps in place to support students and families. Please see below:
Health and Safety
We are thrilled to report that the student who originally encountered someone who tested positive for COVID-19 at Pepper Elementary School has not experienced any symptoms and remains in good health on this fourteenth day. For the past week, custodial, maintenance and security staff have been busy deep cleaning and disinfecting all our schools. In addition, the first wave of over 100 hand sanitizer dispensers have been installed in strategic locations in our schools and the installations near classrooms will continue throughout the coming days.
Food Distribution
We are pleased to share that we have distributed approximately 9,000 breakfast and lunch meals to date. We continue to communicate with county and state leaders to advocate for ongoing food distribution for our Oak Park Schools students and families during the COVID-19 school closure. We appreciate the leadership of our food service director and the many Chartwells staff who work tirelessly to prepare food for our students. We would be remiss if we did not also acknowledge our First Student Transportation Department for distributing food six Detroit school bus stop locations, which does not include the three Oak Park drive up locations.
State Assessments
U.S. Secretary of Education, Betsy DeVos granted Governor Gretchen Whitmer's request to waive regularly scheduled state assessments for the 2019-2020 school year. Therefore, students will not have to take standardized assessments when school resumes.
Learning Opportunities
We appreciate the OPS administrators and teachers for their work to ensure students have countless learning opportunities during the school closure. We encourage you to utilize our website to access learning opportunities for students and email principals and administrators for questions. At the K-5 grade levels, there are hard copies of resources, materials and leveled reading books available at the entrances of Einstein, Key and Pepper elementary schools.
At the 6-12 grade levels, students can access the learning opportunities on our OPS website with computers or smart phones. For additional support, please contact your child's principal. District administrators are exploring technology that improves our ability to stay connected and engage students during this time. We truly appreciate the flexibility, patience and innovation that so many have exhibited during this time.
The response and details involving COVID-19 are evolving rapidly. Each day, I know that we all wake up to new or conflicting information in the media and varying decisions about common challenges from state to state. In Oak Park Schools, we are required to follow the direction that we receive by state officials in Michigan. No official adjustments have occurred to the school calendar or length of the school closure. Please continue to support your children, elderly and the medically fragile in our community.
I want to thank the countless individuals that have provided support to our students, families and staff. I know this has not been easy for any of us, but I am inspired by the work that we are doing to take care of each other. Please practice self-care by taking breaks from media exposure, limiting social media content, and spend time with family and friends. If your child needs social-emotional support or additional wrap around services, please contact your school principal to make the connection to the appropriate staff member.
We are grateful for your ongoing support. We are all in this together. We are Oak Park!
Warmly,
Jamii J. Hitchcock, Ph.D.
Superintendent
Parent/Guardian Communication - March 27, 2020
OPS Parents/Guardians,
We hope that you and your family are in good health. For those of you who are not healthy, have family members battling the coronavirus or have experienced loss, you are in my thoughts and prayers. Health and well-being are our priority and most critical to all of us at this time. If you are a doctor, nurse, healthcare worker, grocery store clerk, restaurant/food service worker, truck driver, sanitation worker, public safety officer, please know that we are tremendously grateful for your courage, sacrifice and dedication to supporting all of us during this difficult time.
Today, marks the second full week of our school closure and we are committed to sharing updates, even when there is very little to share. Please know that our response to COVID-19 is rapidly evolving and we are frequently pivoting to address new, different variables. However, all updates can be found on the Oak Park Schools website at https://www.oakparkschools.org/coronavirus-information/.
School Calendar
Governor Gretchen Whitmer's executive order limits travel to life sustaining or essential needs. As a result, our schools will be closed through Monday, April 13. Oak Park Schools will now remain closed through Monday, April 13. We will return no sooner than Tuesday, April 14. Due to the uncertainty at this time, we are unsure how the school closure will impact the remainder of this school year.
During the originally scheduled Spring Break, April 6 – 10, I strongly encourage all staff, students and families to unplug. This past two weeks have been surreal and we anticipate the upcoming week to be similar. Abrupt schedule and life changes have required all of us to balance work and family from home daily, work lengthy hours, support and care for our loved ones, all while trying to manage the stress and emotion of this time. With this in mind, please truly take a break, to the extent possible while in a pandemic, during our regularly scheduled Spring Break.
Stay Home, Stay Safe Governor's Executive Order
To limit the impact that COVID-19 is having on our community, we encourage our community to adhere to the "Stay Home, Stay Safe" order to stop the spread and wash your hands. It has been reported that hand washing can reduce the spread of the virus by 40%. All schools and administrative offices are closed with the exception of our reduced meal distribution sites on dates in the flyer attached.
Meal Distribution Schedule Changes
The Governor's executive order has contributed to us revising our meal distribution dates. Therefore, we will be providing several days of food on three (3) pick up days at our (3) Oak Park and (6) Detroit school bus stop locations. These days will be Monday, Wednesday and Friday beginning Monday, March 30, 2020. There will not be meals provided on Good Friday, April 10, 2020. Please remember that you may take multiple days of meals in order to provide meals for your children on non-serving days. The FeedOurKidsPgrm-EDITED9.jpg is attached.
Social-Emotional Support & Well-being
Week two of our closure and the rapidly evolving events have contributed to additional stress and anxiety for many of us. If you believe a counselor or social worker are needed to assist a student or family, please contact your child's school principal via email. We also encourage Oak Park students and families to visit our COVID-19 Self-Care tab.
State of Michigan Testing Waiver
As a result of COVID-19, the Michigan Department of Education (MDE) received preliminary approval from the U.S. Department of Education to waive all state testing for students. Therefore, at this time, Oak Park Schools students will not take the M-STEP, PSAT or SAT during this school year.
Learning Opportunities
Currently, we are collecting data on the technology needs of our students. The preliminary assessment indicates that there is significant need. We will communicate in the coming weeks. If you are interested in the possibility of borrowing a broadband hot spot or electronic device, please complete the Technology Request Form.
Internet access support is available through private internet service providers. Although we do not endorse any service provider, the following companies are offering special programs to families during this time.
The purpose of learning opportunities during the school closure is to limit the learning loss that occurs when students do not receive high quality, face-to-face instruction in the classroom. However, we are fully aware that not all of our students have access to electronic device, Wi-Fi, or hard copies of materials and/or may be in families that have been personally affected by COVID-19. Therefore any learning opportunities must require minimal stress for students, parents/guardians and teachers.
Students will not receive any grades for learning opportunities that have been provided during the COVID-19 school closure.
Students will not be penalized for their inability to participate in learning opportunities provided during the school closure.
Personal Protection Equipment (PPE) Donations Needed for Hospitals
Governor Whitmer is requesting additional donations of essential items to meet the medical providers' most pressing needs during the COVID-19 pandemic. Please see the materials most needed by hospitals to protect health care providers. If you have any of these resources available, they are most needed at this time:
Hospital Gowns
Ventilators
Sanitizer (wipes or liquid)
Surgical Gloves
Surgical Masks
N95-N100 Masks
No-Touch Thermometers
Face Shields
Donations can be directed to the Michigan Community Service Commission at COVID19donations@michigan.gov or 517-335-4295.
As you know, this is a difficult, uncharted time for all of us. Undoubtedly, there will be peaks and valleys as we continue to navigate this unprecedented time. These times require empathy, patience and flexibility form everyone. We welcome feedback from our students and families. I encourage you to communicate with your child's teacher(s), school principal or me for support.
We value your partnership in the education of your children. We deeply miss seeing you and your children every day and look forward to connecting via email, phone, social media, video-conferencing, etc. Please enjoy your weekend, to the extent that you are able, and connect with your child's school principal and/or teacher(s) in the upcoming week.
#OPSSTRONG – we will get through this together!
Warmly,
Jamii Hitchcock, Ph.D.
Superintendent