Feed Our Kids : Oak Park Schools Meal Distribution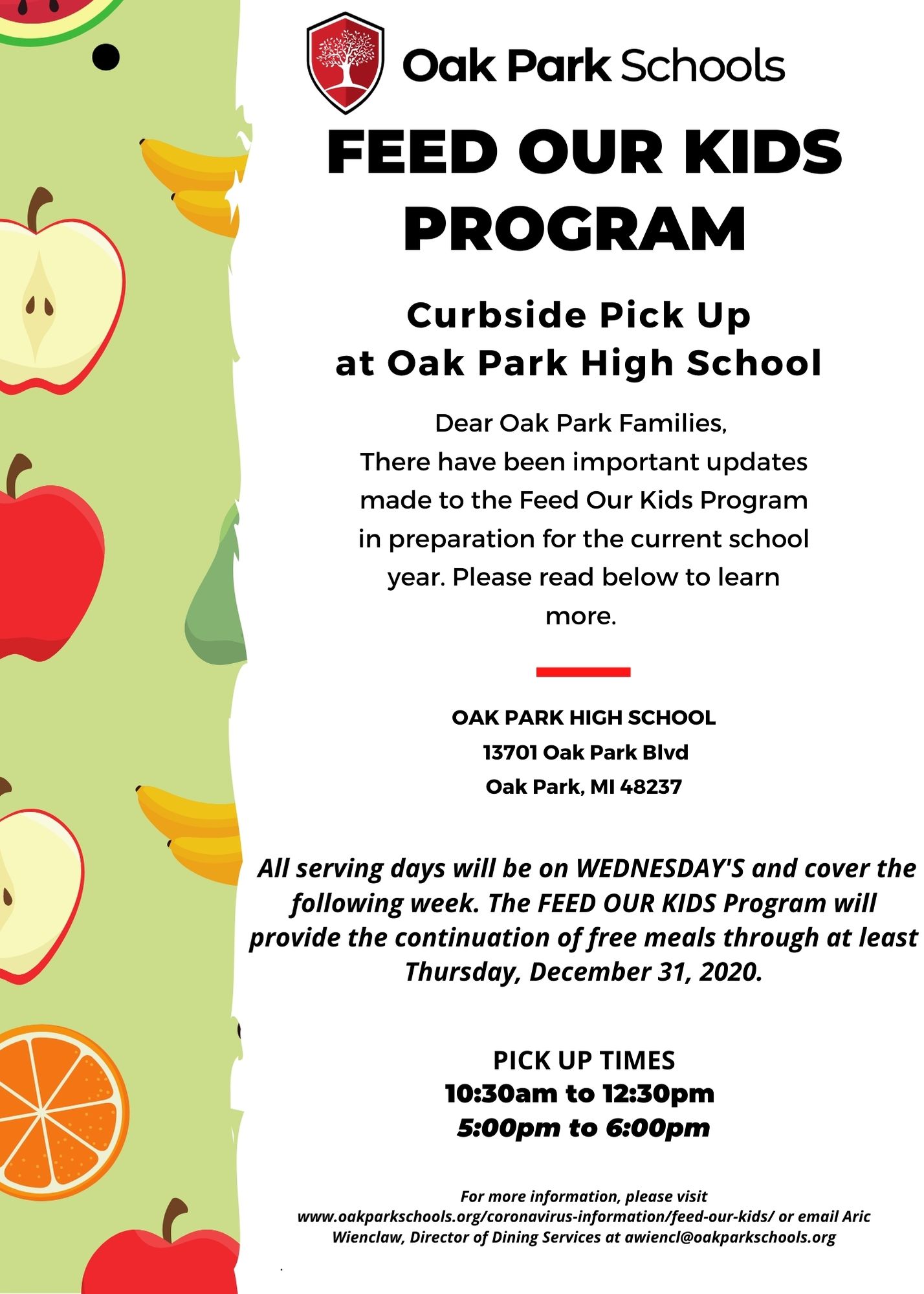 Gleaners Food Bank
Gleaners Food Bank
Gleaners has expanded their food distribution to help students and families in need during COVID-19. If you need help, please click on Find Help Now. To speak to an operator for emergency food assistance, call 2-1-1. If you are unable to reach Michigan 2-1-1 by dialing directly, call the statewide toll-free number: 1-844-875-9211. For more information, please log onto www.gcfb.org.
According to the Detroit News, Gleaners Community Food Bank is partnering with the city of Detroit to provide locations for families with children to receive groceries. Families can pick up groceries at the following locations and associated dates, times:
Roberto Clemente Recreation Center (2631 Bagley Street)

2:30 p.m. – 5:30 p.m. every other Wednesday starting March 25

Heilmann Recreation Center (19601 Crusade Street)

2:30 p.m. - 5:30 p.m. every other Thursday starting March 26

Coleman A. Young Recreation Center (2751 Robert Bradby Drive)

1:30 p.m. – 4:30 p.m. every other Saturday starting March 29

Butzel Family Center, 7737 Kercheval

9:00 am – 12:00 PM, Every other Monday starting March 30
No Kid Hungry: Text "FOOD" to 877-877
No Kid Hungry
No Kid Hungry runs a summer meals texting service. The service is free, and open to anyone. A parent, grandparent or caregiver can simply text the word "FOOD" to 877-877 and the system prompts them to provide their address or zip code, which is used to provide the location and service times of up to three nearby summer meals sites. For additional information, log onto www.nokidhungry.org.