2020-2025 Strategic Plan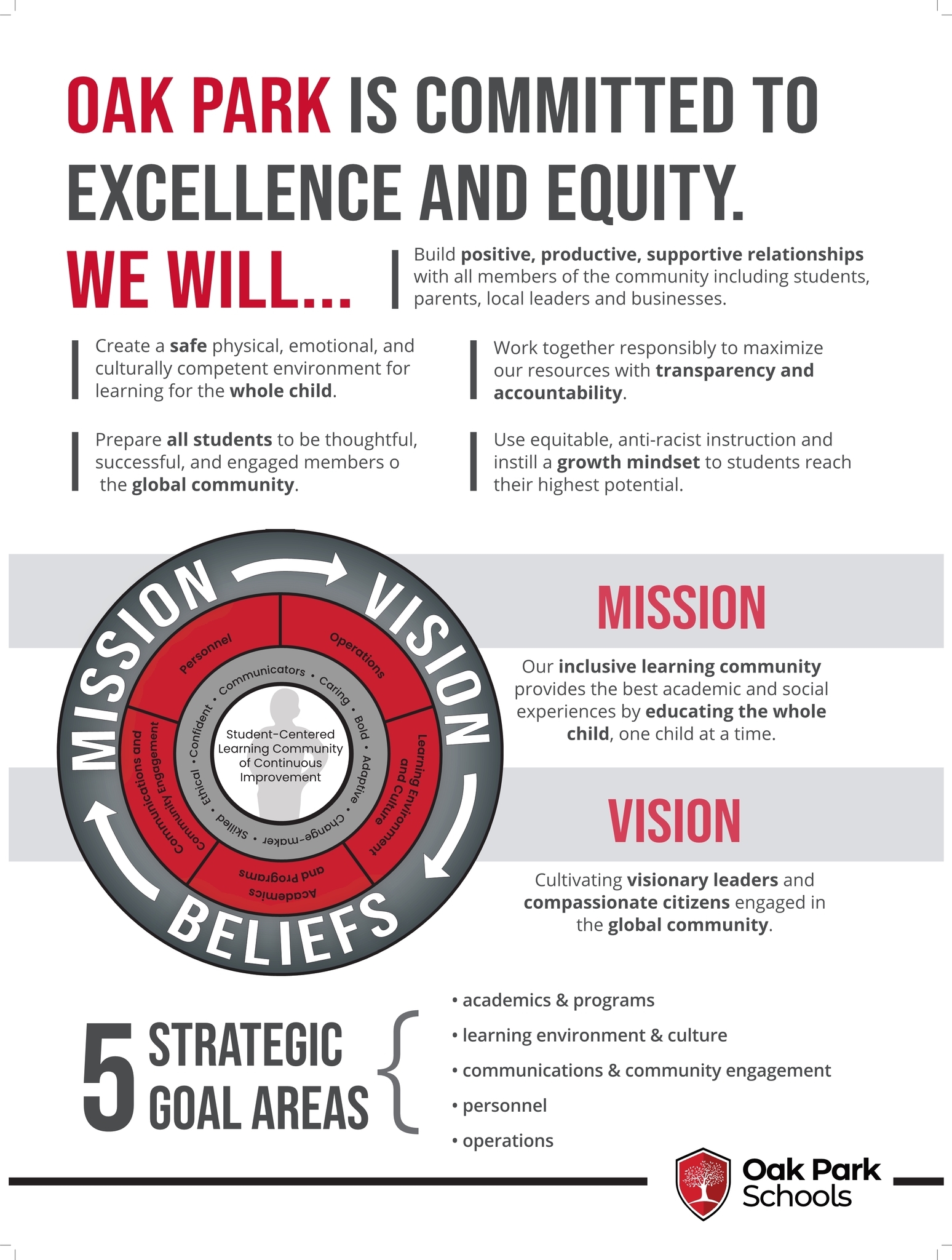 For more information about how Oak Park Schools will achieve EXCELLENCE & EQUITY for all, click on our Strategic Plan e-Brochure!
Dear Oak Park Schools Community,
During the 2019-2020 school year, Oak Park Schools started a journey to build a comprehensive strategic plan in partnership with our students, staff, families and community stakeholders to inform our work for the next 5 years. By engaging community stakeholders, we established a collaborative strategic plan that consists of new goals and strategies for continuing to offer an excellent education for our students that will serve as a guide of measurable goals from 2020 to 2025.
5 Strategic Goal Areas:

Academics & Programs
Learning Environments & Culture
Communications & Community Engagement
Personnel
Operations
A reoccurring theme throughout our strategic plan is a commitment to excellence and equity for all students. Our path to achieving our vision of developing visionary leaders and compassionate citizens engaged in the global community is clear.

Sincerely,

Brandon Jiles
Director of Communications
A special thank you to all of our 2020-2025 Strategic Planning Team Members. We value your support & input!
Jay

Haffner

Steve Cooper

Yosef

Klein
Kelly Blankenship
Derek

Faulk

Carol

Diglio

Shana Holden-Murphy
Cheryl Weiss
Christina

McAtee

Sharon

Tarver

Dawn

Izzi

Dawn

Sommers

Dr. Darlene Davis
Ericka Watson

Jannell

Taylor
Jim Nye
Katie Morrison

Lashun

Harris-Mitchell
Marcia Bonds
Owen

Bondono

Steve Barr
Albert Smith
Marian McClellan
Michael

Adamisin

Dr.

JoAnn

Wright
Judy Rubin
Chiquita McKenzie
Shelley Sherman
Irene

Fakouri

Sarah Jones
Victoria

Goodrow

Demilla

Prince

Ioana

Tatu

Laura

Naumann

Menachem

Hojda

Maxine

Gutfreund

Dawn

Corporan

Crystal Bailey
Todd

Alpertovitz

Amber Miller
Jennifer

Goshorn

Claudette

Lunkins

Jeremy Golem

Jamila

Smith
Dr.

Jamii

Hitchcock
Visionary leaders and compassionate citizens engaged in the global community.
Our mission is to create an inclusive learning community that provides the best academic and social experience by educating the whole child, one child at a time.
Oak Park Schools is committed to excellence and equity for all.
We will create safe physical, emotional, cultural safety.
We will build positive, productive and supportive relationships with all members of the community including students, parents and local leaders, and businesses.
We will use equitable, anti-racist instruction to instill a growth mindset and help all students reach their highest potential.
We will prepare all students to be thoughtful, successful, and engaged members of the global community.
We will work together to responsibly maximize our resources with transparency and accountability.
Academic Programs
Create and implement data-driven instructional plan and framework to significantly and consistently improve student academic outcomes in growth and proficiency.

Learning Environment
and Culture

Create and implement systems that provide culturally competent, safe, supportive, and collaborative learning environments for all students and staff.
Communications
and Community Engagement
Develop and implement a plan that will engage all stakeholders in two-way communication through consistent, timely and accurate information.
Personnel and Leadership
Develop and implement a plan to attract and retain educators that are committed to a culture of integrity, accountability, continuous growth and service.
Operations
Provide safe and environmentally conducive classrooms which foster effective teaching and learning while using 21st century technology.
Traits of Oak Park Graduates
Traits of an Oak Park Graduate
Communicators
Caring
Bold
Adaptive
Change-maker
Skilled
Ethical
Confident
Points of Pride

88% of Teachers
hold a Master's Degree or higher

Advance Placement
22 AP Courses at OPHS