Job Postings
Thank you for your interest in employment with the Oak Park School District! OPSD is looking for individuals who are intrinsically motivated; who have a deep desire to grow professionally; who believe children deserve to learn in an environment with the highest level of cultural competence; who are committed to providing children with boundless opportunities; and who understand that initiative, rigor and grit are essential to be a great teacher leader in the 21st Century.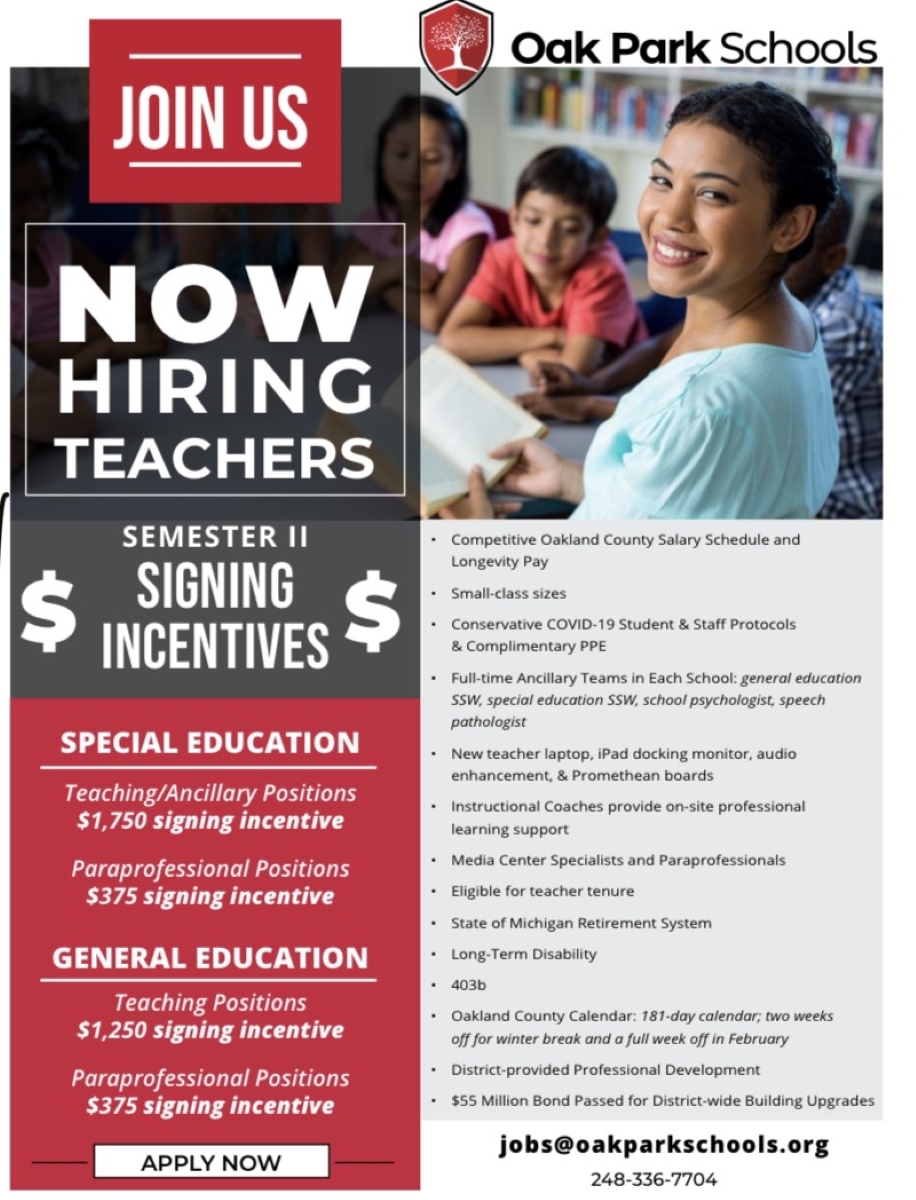 Position Openings:
Dean of Culture (4)
GSRP Teacher (Lessenger)
Mathematics Teacher (4) (OPHS)
Mathematics Teacher (OPPA)
Media Center Specialist (Pepper)
Middle School Teacher (NOVA)
Preschool Teacher (Lessenger)
Special Education ASD Teacher (OPPA)
Special Education Paraeducators
Special Education Resource Room Teacher (OPPA)
For a complete list of open positions - visit the Oakland Human Resources Consortium site. Need assistance with your online application or have any questions? Please feel free to call 248-336-7704 or send an email inquiry to jobs@oakparkschools.org.
Substitute Teacher, Substitute Paraprofessional, Latchkey, or Lunchroom Aide Opportunities Available Now!
Increased pay for Sub Teachers and Support Staff ! Support Staff earn $13.00 per hour and Substitute Teachers earn $20.00 per hour.
To apply, please complete the following 3-Step Application Process:
Step 1: Complete an application on the ESS website: jobs.willsubplus.com.
Step 2: Contact Ms. Lashun Harris-Mitchell at, lashun.harris-mitchell@opsk12.org, or call 248-336-7716, for instructions regarding the fingerprint process. If you have been fingerprinted by another school district, please contact Ms. Harris to obtain a Criminal History Release Form.
Step 3: Complete and submit all required hiring documents to ESS. (Note: ESS will not initiate this step until the fingerprint results are received by the Oak Park School District).