OAK PARK SCHOOLS PARTNERING WITH GLEANERS COMMUNITY FOOD BANK
Oak Park Schools & Gleaners Community Food Bank are partnering to serve our community. We want to ensure all families wishing to receive meals can do so. Families and individuals in need of food are encouraged to attend an upcoming drive-up distribution provided by Gleaners Community Food Bank
The distribution will take place on Fridays, March 5 & March 19 from 2 p.m. to 4 p.m. at Oak Park High School (13701 Oak Park Blvd, Oak Park 48237).
Additional Details:
30 lbs. of groceries - Items such as milk, canned fruits & vegetables, lean protein & other shelf-stable items.
Drive-up or Walk-up - Stay in your vehicles, and groceries will be placed into your trunk. Walk up guests without vehicles or those w/o a trunk are welcome to obtain groceries from a self-service table. If walking, please be prepared to carry the groceries or have a cart.

No appointment needed - You do not need to bring identification or proof of eligibility to receive food.
Increasing safety - If you wish to pick up for another household, you may do so without their presence in the car.
Please contact Vicky Zoldos at 313-530-8736 with any further questions.
Oak Park Advantage Newsletter - February 26, 2021
Administration Building Address
13900 Granzon St. Oak Park, MI. 48237
Office Hours
7:30 a.m. - 4:30 p.m.
Enrollment Hours
8:00 a.m. - 4:30 p.m.

District News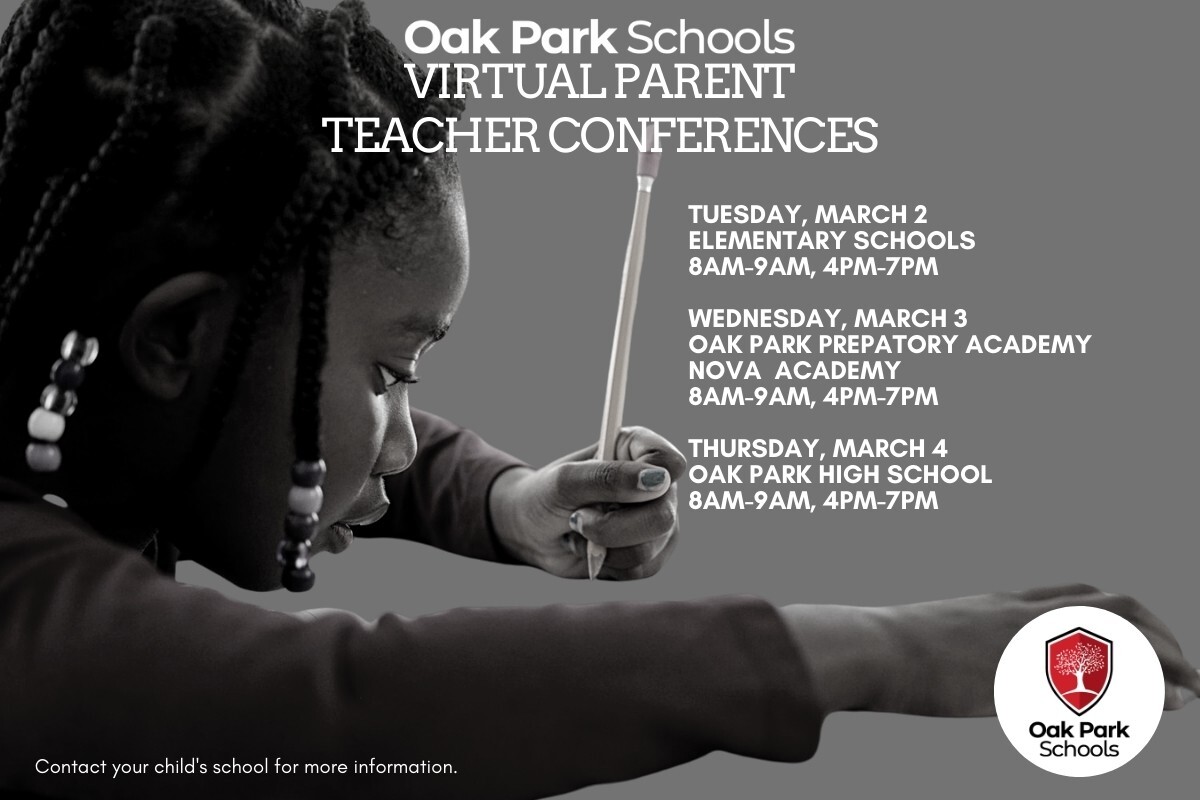 FREE COVID TESTING
Oak Park Schools announced this week that it has partnered with Henry Ford Health System to provide free COVID-19 testing for the community at Oak Park High School every Wednesday 10 a.m. - 6 p.m. beginning January 6. Visit http://henryford.com/freeCOVIDtest for the complete schedule and locations.
MARCH UPDATE: FEED OUR KIDS PROGRAM
Our next meal distribution will be Wednesday, March 3, 2021, from 10:30 a.m. – 12:30 p.m. and 5:00 p.m. – 6:00 p.m. at Oak Park High School located at 13701 Oak Park Blvd., Oak Park, 48237
Oak Park School District residency and/or enrollment in the school district is not necessary to receive meals.
For more information, please visit www.oakparkschools.org/coronavirus-information/feed-our-kids/ or email Aric Wienclaw, Director of Dining Services at awiencl@oakparkschools.org

No School/Spring Break

Calendar:

Oak Park Schools Calendar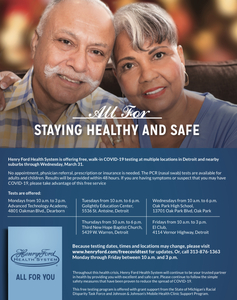 HENRY FORD HEALTH SYSTEM PROVIDING FREE COVID-19 TESTING AT OPHS
Henry Ford Health System is offering free, walk-in COVID-19 testing at Oak Park High School and multiple locations throughout Metro Detroit through Wednesday, March 31.
No appointment, physician referral, prescription or insurance is needed. The PCR (nasal swab) tests are available for adults and children. Results will be provided within 48 hours. If you are having symptoms or suspect that you may have COVID-19, please take advantage of this free service.
Because testing dates, times and locations may change, please visit www.henryford.com/freecovidtest for updates. Or, call 313-876-1363 Monday through Friday between 10 a.m. and 3 p.m.
Kids Kicking Cancer - Heroes Circle
The Oak Park Advantage is a holistic approach to education that not only prepares students academically, fosters a sense of belonging but creates long-lasting connections to the Oak Park community. While attending Oak Park Schools, students develop a confidence that is woven throughout their post-secondary, professional and social-emotional well-being years after they graduate.