OPS Return to School Roadmap

As we continue to develop our return to school plans, we want to provide families with one place to view information. Please know there may continue to be unanswered questions related to guidelines established by the State of Michigan for the 2020-2021 school year. As critical information becomes available, please bookmark this website for updates.

For broad details about our return to school plan, please review the website from our OPS Virtual Town Hall. For specific information about your child(ren)'s school, please contact the main office or email the principal.
What will learning at home look like?
All K-12 students should expect to be learning for the full school day and will receive live real-time instruction throughout their day. In addition to live instruction, students will also have access to small group instruction, activities with their classmates, and meaningful individual support from their teacher for the remainder of the school day. See ​elementary table/PPT slides ​and ​secondary table/PPT slides ​ to learn more about how we have improved the at-home learning experience for the new year.
Administration Building Address
13900 Granzon St. Oak Park, MI. 48237
Office Hours
7:30 AM - 4:30 PM
Enrollment Hours
8:00 AM - 4:30 PM

District News
Safe for School Hotline
Beginning October 12 through December 30, 2020, Oakland County is offering a telephone screening resource to assist parents/guardians through the pre-screening process and to help identify potential illness in children prior to entering school. All screenings are conducted by healthcare professionals.
Hotline staff can help answer questions about COVID-19 symptoms, the need for testing, and what is considered high-risk.
Cost: No cost for parents/guardians of Oakland County school-aged children
Days: Monday through Friday
Times: 5 a.m. to 8 a.m.
Number: 248-551-4242
General COVID-19 resources can be found on the Health Division's website at www.oakgov.com/covid or by contacting Nurse on Call at 800-848-5533 or noc@oakgov.com. Nurse on Call is available 8:00 a.m. to 6:00 p.m., Monday through Friday, and 9:00 a.m. to 12:00 p.m. Saturday. For up-to-date public health information, follow @publichealthOC on Facebook and Twitter.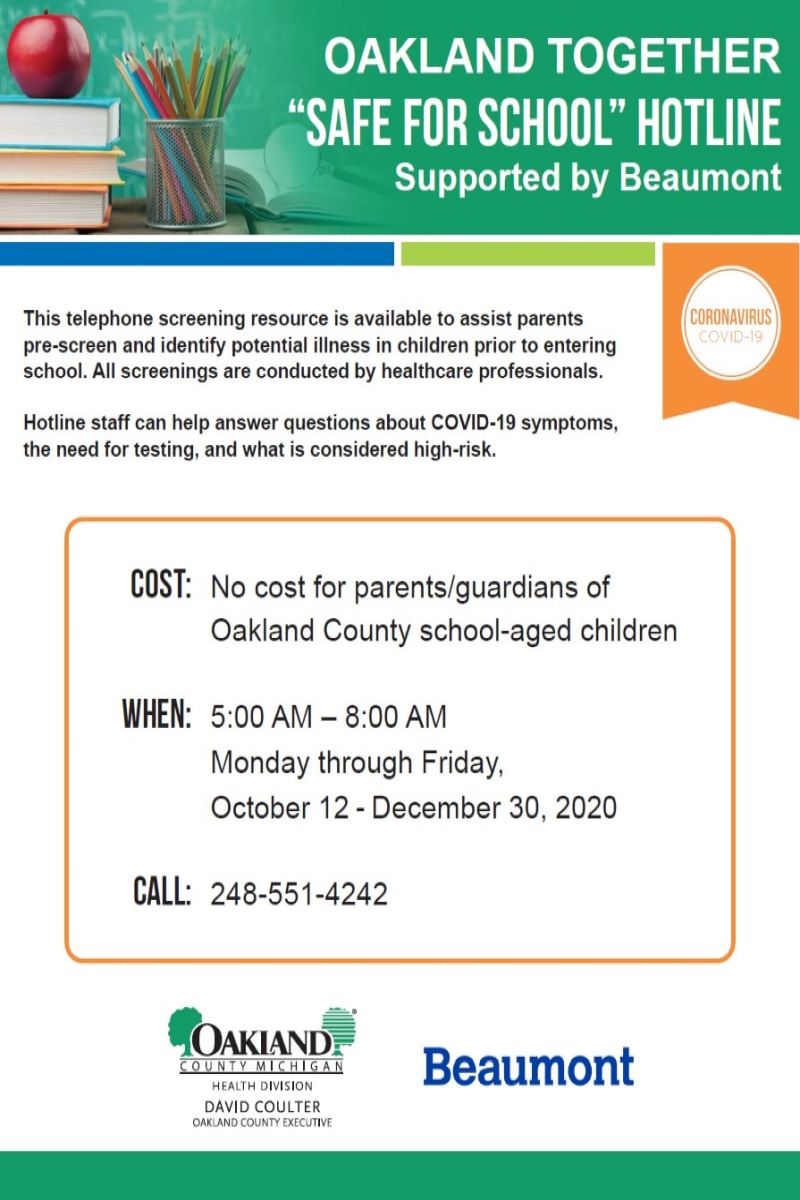 IMPORTANT IMMUNIZATION INFORMATION
All OPS students must have an up-to-date immunization certificate or a valid immunization waiver to attend Oak Park Schools per Michigan law. If your child(ren) need immunizations, please use this time (virtual learning), to update the required immunizations.
IMPORTANT NOTE: Students who are not properly immunized will not be permitted to return to in-person teaching and learning until immunizations are up-to-date.
For more information, please visit https://www.oakparkschools.org/community-parents/school-health-k-12/ or email Victoria Ipina, School Nurse at victoria.ipina@ascension.org
UPDATE: FEED OUR KIDS PROGRAM
Oak Park Schools is providing meals for families, residency and/or enrollment in the school district is not necessary to receive meals. All meal distributions will take place on Wednesday's from 10:30 a.m. – 12:30 p.m. and 5:00 p.m. – 6:00 p.m. (new). Our next meal distribution will be Wednesday, September 30, 2020 at Oak Park High School located at 13701 Oak Park Blvd., Oak Park, 48237
For more information, please visit www.oakparkschools.org/coronavirus-information/feed-our-kids/ or email Aric Wienclaw, Director of Dining Services at awiencl@oakparkschools.org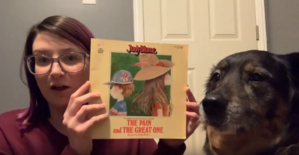 Story time with Einstein's teachers
Since we are out of school because of COVID-19, some of our teachers have graciously posted videos reading for our students. We will continue to add videos as we see them posted.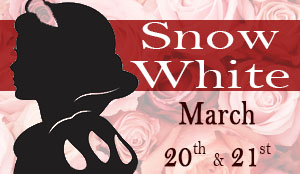 The Oak Park Drama Department Proudly Presents: Snow White!
Kids Kicking Cancer - Heroes Circle
The Oak Park Advantage is a holistic approach to education that not only prepares students academically, fosters a sense of belonging but creates long-lasting connections to the Oak Park community. While attending Oak Park Schools, students develop a confidence that is woven throughout their post-secondary, professional and social-emotional well-being years after they graduate.