04/30/2023
OPHS Students v. Alumni Basketball Game builds community, competition, camaraderie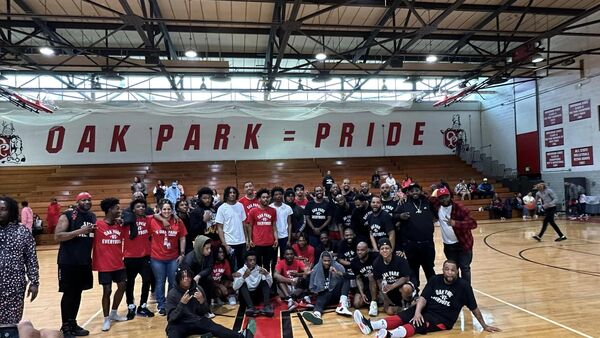 On April 29, students, alumni, and members of the community will gathered at Oak Park High School to participate in the annual Students vs. Alumni Basketball Game. Co-sponsored by Oak Park Alumni Foundation, Vintage Que · Official Music, and SMASH Foundation, Inc. this event is one of the unique opportunities where students, alumni, family, friends, and community all come together in one place.
It was the Oak Park High School alumni who were the victors in the Students vs. Alumni Basketball Game. With athleticism shining through on both ends, teams traded baskets at a rapid pace, as the game went on it was obvious, age was no factor in the speed, skill, and stamina of the Alumni squad! There were cross over dribbles, no look passes, and three-pointers falling from all corners of the court. Before one could even blink, the alumni were up and never looked back. Regardless of the outcome on the scoreboard, the game provided a wonderful experience for the students and allowed our loyal alumni to connect not only with their classmates but mentor a new group of Knights!
"First and foremost, we want this event to fun and meaningful to our students, alumni, and spectators," says Angel Abdulahad, Superintendent of Schools. "It's a great chance to show future alumni something to look forward to once they graduate. The students and alumni enjoy connecting with each other, and the game was extremely entertaining, too."
Points of Pride

88% of Teachers
hold a Master's Degree or higher

Advance Placement
22 AP Courses at OPHS